Grant Schedule
| | |
| --- | --- |
| SUBMITTED BY 5:00PM CST ON: | WINNERS NOTIFIED BY: |
| February 1st | February 15th |
| April 2nd | April 16th |
| November 1st | November 15th |
| | |
2019 Recipients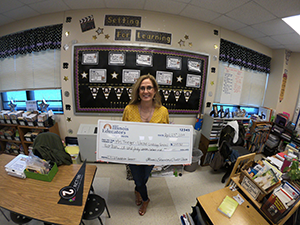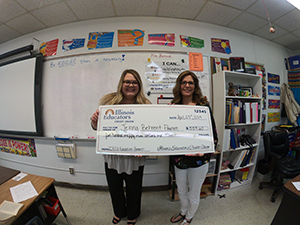 Grant Procedures
Members of Illinois Educators Credit Union, employed by a school district, may apply for the IECU Education Grant.

Grant applications are to be submitted to Illinois Educators Credit Union per the above scheduled dates and times. Applications shall be submitted electronically only.

Criteria for the awarding of grant(s) are at the discretion of Illinois Educators Credit Union.

Grants must be used to better/further the education of students. Grants cannot be used for workshops, college classes, etc.

Grant recipient, their principal, and Superintendent will be notified by written notice or visit to their classroom at their school/office per the above schedule. We may also notify the Regional Office for the Illinois Education Association.

Grant proceeds shall be made payable to the recipient and the school district.

Grant recipient is responsible for providing to IECU pictures of their project.A minimum of five (5) photos should be provided within six (6) months of the grant and may be submitted in person, by mail or by email. Photos may be used as verification of funds usage.

IECU may print the names of grant winners, their titles and schools in our monthly newsletter, Facebook page, website, and all other applicable media.

Illinois Educators Credit Union reserves the right to observe/visit the project/classroom/etc. and the recipient of the grant.

If your application is not selected in the current grant cycle, you may resubmit the application in a following cycle. Non-winning applications will not automatically be resubmitted.

In order to resubmit an application for consideration, a new copy must be mailed, faxed, emailed, or submitted in person to Illinois Educators Credit Union.

Failure to complete an item will disqualify your grant application.

There is not a limit to the number of IECU Education Grants a particular member or school can win.
Questions about the IECU Education Grant, formerly the John Lowe Education Grant, may be directed to the Marketing Representative, by phone at 217-528-2642, ext. 108, or by email to KFinley@iecumember.org
Go to main navigation